Are you a beginner or regular kayaker? A good pair of kayaking shoes can give you a good experience of comfortable kayaking; they will keep your feet protected at an affordable price.
There are so many different types of kayaking shoes on the market.  A pair of the best whitewater kayaking shoes is a good investment. You can have a functional and comfortable pair of shoes for longer kayak paddling sessions. The best shoes for kayaking keep your feet warm also prevent slipping and injury,
To choose the best kayaking shoes, you should know about whitewater kayaking shoes. Here We will give you some shoe reviews that are going to help you to choose the best whitewater kayaking shoe for you.
Best Whitewater Kayaking Shoes
| Product's Name | Color | Material | Key Benefits | Price |
| --- | --- | --- | --- | --- |
| NRS Paddle Wet Shoes | Black & Grey | Neoprene | Good Durability And Outline | Details On Amazon |
| ALEADER Kayaking Shoes | Blue | Mesh & Rubber | Good Breathability | Details On Amazon |
| Neosport Wetsuits Kayak Shoes | Black | Neoprene | Light In Weight | Details On Amazon |
| KEEN Aphlex Kayaking Shoes | Bossa Nova | Textile & Synthetic | Thick And Slip-free Outsole | Details On Amazon |
| O'Neill Kayaking Shoes | Black | Fluid Foam & FilterTech | Goes Well With Any Outfit | Details On Amazon |
| Wave Runner Kayaking Shoes | Red | Breathable Fabric | Flexible And Tough Sole | Details On Amazon |
| Speedo Water Shoes | Black & White | Textile & Neoprene | Improved Traction And Grip | Details On Amazon |
Here we will suggest some of the top whitewater kayaking shoes choose the best shoe for safe and comfortable kayaking.

It is one of the most versatile water kayaking shoes by NRS. These shoes have zipper places on the side. That makes it very easy to put on and take off.
The shoes are from neoprene material made. It makes the shoes lighter.  Around the ankle of the shoe is wrapped up that will protect your feet from cold weather.
Even in the cold water, these kayaking shoes are an excellent choice for kayaking. Also, keep your feet warm and comfortable during a long time kayaking.
NRS kayaking shoes have soft Vapor Loft lining that repels the water and dries off instantly. That helps to provide superior comfort with warmth.
The outer sole of these shoes has a 3-mm thick high-traction rubber made sole, with a 5-mm neoprene insole. The thick sole provides additional protection to your feet from rocks and roots.
Pros:
Prevent cold
Keep Gravel and sand out
Flexible & Durable
Good stability
Cons:

ALEADER brands have Fluid Flow technology that allows water to drain through the holes. Because of draining water so fast, it will enable this water shoe to dry off very quickly.
These shoes are open breathable air mesh made. The midsole of the shoe comes with an exceptionally lightweight and comfort to the shoe. It also has an excellent bounce-back and durability.
The outer sole of the shoe is rubber built. A good traction pattern will provide by the Rubber sole. That allows these kayaking shoes to make a good grip while kayaking in the wet and slippery place.
The sock liner delivers the optimum cushioning performance. The flexible, dry inner sole of Aleader shoes' makes a healthy internal environment in the shoe.
The product is available in different colors like black, blue, and gray color combinations. You won't regret buying this shoe for activities on any terrain.
Pros:
Breathability
Fast drying
Strategically placed rubber pods
Durable
Good traction
Cons:

This brand is one of the best brands of Kayaking shoes for white water kayaking with good traction rubber outer sole. With a durable bonded thread, the seams glued and hand-sewn
They are soft, premium, neoprene material made kayaking shoes. These are for people who need very comfortable shoes for kayaking. The hardened insert sole in the shoes has puncture-resistant protection.
In cold weather, the shoes will keep your feet warm. These types of kayak shoes are easy to put on and take off.
There is an arch strap on these shoes.  Also, a cord is below the ankles of the boots. It helps to adjust for a secure fit. The shoes are best for paddling in the rocky river bottom and in and out of the kayak.
Pros:
Puncture-resistant sole
Durable
Super streamlined
Durable side zippers
Cons:
Little thin sole
Do not keep dry

Keen Aphlex Shoe is one of the best brand shoes for kayaking. It has an EVA midsole. The dual-density compression-molded midsole that can control the odor produces in the shoe naturally.
The Upper sole of these shoes is made of synthetic rubber a mash. That mash of the upper sole makes it breathable and lightweight. It also provides high traction to the shoe during walking in the water.
It can provide a firm grip on every type of surface because of the pattern of the sole.  The outer rubber sole extended over the toes and heel and provided protection.
This low-profile kayaking shoe is very lightweight will add extra comfort during kayaking. Since the boots are ankle-high, they can get soaked in deeper water.  You can have these comfortable shoes at an excellent price.
Pros:
Versatile
For Hiking and kayaking
Waterproof
Good traction
Durable
Cons:

Another brand manufacture the best shoe for kayaking, is O'Neill. The sole of this shoe is rubber made that is prominently durable. That provie extra to your feet by the sole from any adverse environments.
It has 2mm neoprene material that helps to retain warmth in feet.  There are 2mm Fluid Foam and Filter Tech in the boots, also with excellent mobility facility in O'Neil kayaking shoes.
The shoe is a slip-on surf boot that can be worn in and out of the water. It is a freak sneak lo-top boot that feels smooth comfortable because of glued blind-stitched.
There is an elastic lace-up closer on the shoe. This lace-up closure molded it easy to put on and off. The boots protect your feet no matter how the activities of you do in water.
Pros:
Can be used In and Out of the water
Comfortable
Durable
Round toe
Cons:

Wave Runner water shoes are one of the best brands for hassle-free diving and kayaking. It has a no Slip Supporting Sole for safe water activity. It is breathable mesh materials built that are stretchy and slip-free to keep you safe from injury.
The outsole is thick and anti-skid, which makes it durable. There are drainage holes on the sole keep your shoes dry. It has lace closure that makes it easy to put on and off.
These shoes are for hiking in the water so comfortably with a very lightweight to enjoy a relaxing barefoot shoe experience. This shoea keep your skin safe from the blister.
For the beginner, it is the best kayaking shoes to feel confident and walkthrough the water quickly. These kayaking shoes are for women can be found in vibrant colors.
Pros:
Flexible rubber sole
Grippy in the water
lightweight
Versatile
Cons:

All-purpose water shoe manufactured by Speedo is for water or land daily activity. It has a lace-up inspiring bungee lacing system for a secure fit.
With a very lightweight, the shoe has a breathable mesh that enhances the airflow. It is also designed with quick-drying technology that extends the comfort of the shoe.
There is a heel tab on the shoe that makes it easy on and off. You can have this quality shoe at an affordable price.
It consists of a synthetic sole and comes with an S-Trac outsole that disperses water. The rubberized outer sole provides improved traction for the no-slip experience.
That keeps you safe and secure in and around the water. So it is perfect for use in the slippery and wet ground.
Pros:
Cool design
Do not sock water
Excellent fit
Quick-drying technology
Cons:
Thin Sole
Sand can get in the shoe
How To Choose The Whitewater Kayaking Shoes?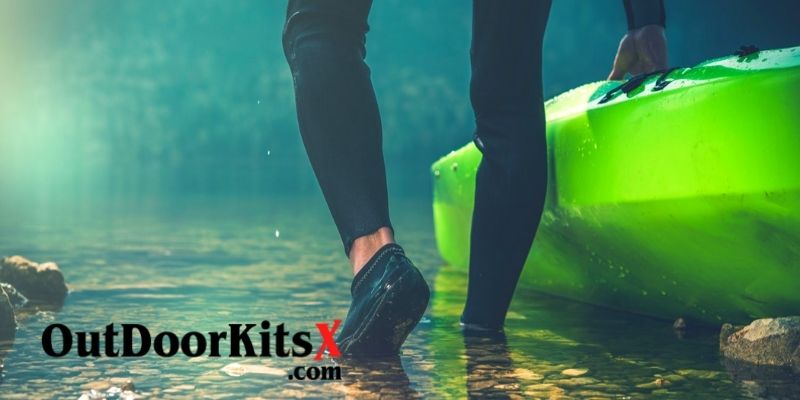 There are some factors the weather in which you use them, the building material, the shoe design, the price, etc. you should keep remembering when choosing the whitewater kayaking shoes.
Weather
Depending on the weather you are going for long session kayaking, you should choose the shoe fit. For kayaking in chilly water, you should choose the material like thick neoprene that protects feet from cold.
On the other hand, for warm weather kayaking, you can choose the material that lets your feet breathe like thin neoprene, mesh, or even rubber sandal-type shoes.
Size
Size is another factor that should consider while choosing kayaking shoes. Wearing the wrong size shoe may cause you to feel very uncomfortable. The wrong size shoe can damage your feet and skin.
Waterproof
The materials of the kayaking shoes must well waterproof or water repellant. The waterproof fabric repels water fast and dries up very quickly, keeping your feet from cold. Waterproof material makes the shoes washable and durable.
Grip
The shoes you are choosing should have a good rubber sole with a traction pattern. It will provide you a non-slip grip in the water during ins and out of the kayak. Also, minimize the risk of injury while walking in the water.
Shoe Height
There are three different height kayaking shoes. For example, low cut water shoes for kayaking in warm water. Ankle-high shoes are great for very cold water kayaking. They also offer you a warmer and comfortable walk on the rock. Knee-high boots also give you protection outside the kayak
Sole
The design of the sole is also essential. The rubber sole should have traction and a good grip on the surface.  The thick sole is for cold weather, and thin sole used for warm weather
Materials
The best shoes for kayaking are neoprene material built.  The neoprene material is flexible and keeps your feet warm. They have rubber soles that provide stability to the shoe. Some models has titanium reinforce, and some are from the synthetic mesh.
Price
You do not have to spend much money to but the best whitewater kayaking shoes. You can find out some affordable kayaking shoes that will meet your needs.
Frequently Asked Questions (FAQs)
Why is neoprene the best material for kayaking shoes?
Neoprene is a synthetic rubber material. It is an excellent material for kayak footwear. It provides excellent flexibility and stability. Also, provide fantastic insulation against cold, and it can be thicker to protect from freeze water.
What if the kayak shoe is very tight or too loose?
The kayak shoes must fit in your feet. If it is too tight in your feet, it feels very uncomfortable and may irritate your skin. On the other hand, if the shoe is too loose, it may fill with water and rub your feet. Because of friction, you may cause blister in your skin.
What is the use of waterproof shoes for kayaking?
The primary purpose of using waterproof materials in kayaking shoes so that your boots can repel water and dry quickly. That won't necessarily stop water from getting into your shoes but keep your feet from becoming overly cold. Waterproof shoes are easy to clean because they dry faster.
Conclusion
Depending on the weather and temperature of the water, you should choose the best whitewater kayaking shoes for your adventure. There are too many brands and designs of kayaking shoes in the market that you can choose.
Before buying kayaking shoes, you should consider some features of the boots. Here we discussed those features of the shoes in this article that can affect kayaking.
The shoe must be flexible, durable, and comfortable shoes that provide traction in and out of the kayak. You also may consider the fittings of the shoe and price.
To choose the best whitewater kayaking shoes in your budget, you can get help from this article. Here we listed the 6best kayaking shoes for you at an affordable price.