Are you worried about swaging cables while you don't have anyswage tool? This article will show you some DIY about how to swage cable without tool. It is going to be helpful to you.
People who are not professionals don't want to spend on buying expensive tools for swaging cable for a couple of times only. So, we thought of finding out some alternative to those expensive tools and make it done with simple tools available at hand.
Check out the methods then.
How to Swage Cable without Tool- Using Some Common Tools at Home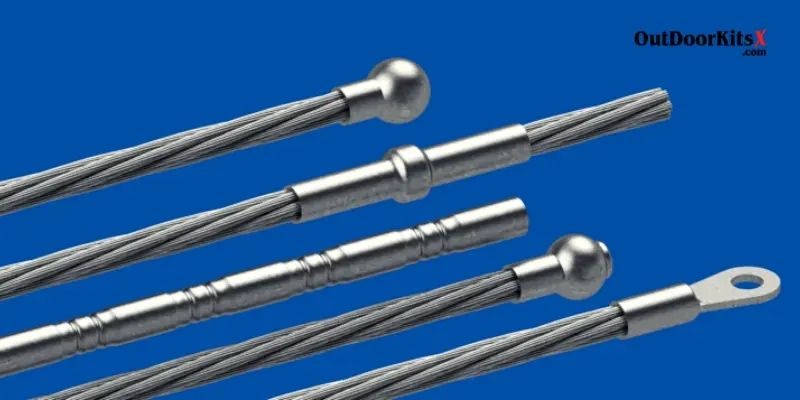 There are several handy tools you have at home that you can use to swage cable. Let's see the common tools that you can use as an alternative to cable swaging tools.
Cable
Aluminum Ferrule/sleeve
Vise grip
Hammer
How To Swage Cable Using Vice Grip
In this method, you can use a big vice grip to swage the cable. However, the IRWIN 10-inches vise grip is not bad at all with the perfect size and efficacy.
IEWIN Vise-Grip- 10 Inches Original Locking Plier
Alloy steel made durable handle
Trigger release with max locking force
Perfect for all types of work
Things You Will Need
The cable which you want to swage
Ferrule or aluminium sleeve
Big Vice grip
Steps for Swaging with a Vise Grip are-
First, take a ferrule/Aluminum sleeve according to the size(diameter) of the cable you want to swage.
Pass the cable throughout the ferrule.
Then make a loop with one end of the cable and pass into the ferrule or sleeve back.
Adjust the loop of the cable in which size you want it to be.
Now, place the sleeve with cable inside the jaw of the vise grip vertically.
Press lightly to hold and then tighten the Vise grip setting.
Repeat this and make more than one swage side by side based on the size of the ferrule.
In this way, your cable swaging is done with a vise grip.
Pro Tips:
Never place the sleeve inside the grip horizontally. Always place it vertically.
While making more than one swage, keep a minimal space in between them.
Swaging Cable with Hammer And Chisel
You can swage a cable with a hammer, And don't think this method is less effective. The fact is here you need to put more efforts.
Things You Will Need
Petutu Aluminum Crimping Sleeve- 200 Pcs Fit 1/16" or Bigger Size
Aluminium made-budget pick
Usable for cable, rope, cloth line, dog leashes,
Robust & easy to crimp
Steps for this are-
Pick up an aluminium swage sleeve for the size of cable you have.
Make a loop byentering the cable through the ferrule and passing it back on the opposite.
Then adjust the loop to the size you needed.
Place the chisel in the sleeve and whack it with a hammer.
Make two or three dents on the sleeve.
Pro Tips:
Be careful while striking the hammer
If possible use safety gloves to avoid any miss hit
How To Swage Cable with a Plier
Here in this method, you can use a plier to swage cable. This method is ideal for small diameter cables. However, it is the most controlled way of swaging.
Things You Will Need
The cable you want to swage
Aluminium sleeve
A Plier
Dowell Combination Plier- 8" Budget-Friendly Plier
Nickel Chromium steel makes it durable
Meets ANSI standards
Maximum grip with added comfort
Steps for swaging with a plier are-
With a wire and aluminium sleeve/ferrule, make a loop following the same mentioned in the previous methods.
Adjust the loop's size as you want and place the sleeve in between the plier's jaw.
Smash it and make a dent, make sure not to cut the wire.
Repeatedly smash side by side and make two or more dents.
Then press the pliers with your hand until the fitting closes on the cable.
Pro Tips:
You can only swage the narrow cables using pliers. If the cable is thicker enough, use the other methods to swage, otherwise,the performance might not be durable.
Some Vital Things to Keep in Mind While Swaging Cable without Any Swage Tool

Using a swage tool to swage cables is the best way. But if you do not have one or do not want to buy, rather do without swaging tools, remember these following facts.
When you are using a hammer to swage a cable, do not bash it too hard or it will break
Hammer can be dangerous to use when you are swaging an electric wire/cable. So, do each step carefully.
To create a proper and secure swage, very high pressure is needed.
Pliers can only be used in case of low diameter cable.
You mightbreak one or two sleeves at first if you had never used the tools before. However, you will get to learn through the process easily after one trial.
It is beneficial to use copper crimps/ferrule for cable swage and aluminium crimps for monofilament. But both are usable, no issue.
Frequently Asked Questions(FAQs)
Is there any problem with using any size sleeve?
There are different sizes of sleeves available in a hardware shop. You have to choose the right size sleeves for specific diameter cables. The wrong size can end up in trouble with entering the cable into the sleeve.
Can I use a plier to swage a cable?
Yes, you can use a plier to swage instead of a swage tool. But Pliers are suitable for small swaging small diameter cables.
What can I use if I have no swage tools?
When you have no swage tool, you can use a big vise-grip to crush the aluminium ferrule. Otherwise, you can use a plier, hammer, and chisel to swage cable.
How to align the aluminium sleeve when swaging cable?
No matter what material the sleeve is, always align the sleeve into the slot vertically, never horizontally. If you place the sleeve horizontally, it may break or bring poor performance.
Final Words
Swage with a proper tool is always better, but sometimes it's not practical. Sometimes you may not have a proper tool. There is no need for a swage tool if you know how to swage cable without tool.
When you do not have a tool to swage cable, you can use other simple tools you have, as described in this article.