Sometimes managing a tethered drone is not user-friendly for everyone. In that case, if you look for an underwater drone that has wirelessly piloted, then our article base on the best wireless underwater drone comes as your savior.
This type of drone is mostly used as a fishing tool. Still, you can also use it for your recreational purposes or adventurous explorations. However, the number of wireless drones available on the market is comparably fewer than the tethered drone. Another fact maximum drones are not cheap.
So if you have enough curiosity in knowing about the best wireless underwater drone that is trending on the market, then continue to read this article as our prospective is to deliver extensive ideas about the latest underwater drones that guide you to pick the most preferable one for you.
Best Wireless Underwater Drone
| Product's Name | Video Quality | Max Depth | Battery Life | Key Benefits | Price |
| --- | --- | --- | --- | --- | --- |
| ROBOSEA Biki Drone | 4K Ultra HD | 196 Feet | 2 Hours | Nice Picture Quality | Details On Amazon |
| PowerVision PowerRay Wizard | FHD 1080p | 262 Feet | 4 Hours | Long-term Battery Capacity | Details On Amazon |
| PowerVision Powerdolphin Wizard | 4K UHD | 330 Feet | 2 Hours | Nice For Marin Research | Details On Amazon |
| Geneinno Underwater Drone | 1080p | 492 Feet | 4 Hours | Simple To Carry | Details On Amazon |
| CHASING Dory Underwater Drone | FHD 1080p | 45 Feet | 1 Hour | Easy To Navigate | Details On Amazon |
In this section, we will discuss about the top-rated drones and their highlighted features. So let's check out the review list of our top recommendations for the best wireless underwater drone.
Let's dive into this article before you dive into the deep sea!
1. ROBOSEA Biki Drone– With Camera Stabilizer, Fish-Like Design, 4K Camera And Faster Speed

This Biki underwater drone from ROBSEA comes with a fish-like design; a motorized tail makes its outlook different from the others. It has been recognized as the best wireless underwater drone for fishing and known as bionic underwater drone.
This drone has considered one of the fastest underwater drones. As it has a wirelessly controlled capability, so it is hassle-free to operate. It can easily control by using your smartphone app (IOS or Android) or by remote control. To control it with your app, you need Wi-Fi connectivity to allow this drone to submerge according to your commands. You can also customize its path.
The 4K camera can automatically record all the activities to enjoy it when the drone returns to the surface area. Its other exciting features – it can go dip up to 196 feet with an average recording time around 90 to 120 minutes, GPS facility, has 32 GB of internal memory space, two-lumen lights, and its charging time approximately 2 hours. It is portable, easy to instruct, and can avoid sudden obstacles.


It is the right choice for the beginner who wants to pilot a submersible drone with a budget-friendly price tag.
Pros:
Fastest drone
Durable
Affordable price
Easy to carry
Cons:
No real-time scenes available on the phone when it is submerged
2. PowerVision PowerRay Wizard– With Elegant Design, Real-time Viewing, And VR Googles

PowerRay drone is an all-rounder with its multi-functioning capability, elegant design, real-time viewing facility, and VR googles to do your underwater research, inspection, or shipwreck explore. This drone has specially innovated to explore the water kingdom.
This drone can dip up to 98ft; its base station includes a long waterproof tether and has a wireless remote to operate it. It comes with 64 GB of memory space, 4K underwater videography, an advanced FPV system, Wi-Fi connectivity, app sharing facility, and real-time viewing features. The camera can click up to 12-megapixel photos, and in burst mood, it clicks five frames/second.
Another exciting feature of this drone has an explorer and power seeker sensor that detect the fishing hotspot. The VR goggles deliver a realistic aqua experience. You can also use it as a fish-finding tool as it has a power seeker sensor, so it helps you make your fishing experience more enjoyable. It functions for around four hours on one charge.


Apart from fishing, if you want a useful drone for your professional works, marine research, or commercial investigations, it is the right companion for you.
Pros:
Lightweight
Easy to demonstrate
Reliable features
Prolonged battery life
Cons:
Can pull away by bigger fishes
3. PowerVision Powerdolphin Wizard– With Better Video Performance,Gives You The Best Wireless Experience

Powerdolphin wizard comes with all the required essential features for underwater photography and gives you the best wireless experience. It has considered the best option for surface level filming because it captures the sea world life in its excellent 4K photography, provides better video performance with prolonged battery life.
Besides this drone includes intelligent fish finding features, its camera can rotate 220 degrees, have multiple resolution facilities, and have the self-righting ability. The one-button quality delivers the best remote-friendly adventure. As it has a bait dropping and sonar facility, you can use it for fishing.
The Li-poly battery can reserve the charge for up to 2 hours, but it depends on how much you use it. The navigation of this device is not so hard, just similar to aerial drones. Still, you need to be very conscious when piloting it around people. It gives a better remote with 800 meter of range, and to navigate it, and your smartphone will function as a monitor.


if you want to do some commercial works or inspecting maintenance problems, this effective drone may the right choice for you.
Pros:
Shoots good quality pictures
Effective fish finder
Self-righting capability
Faster speed
Cons:

This drone is best for professional underwater photography as it has two-lumen headlights and color filters. The drone has an eye-catchy six-thruster structure and user-friendly navigation system, so it can efficiently operate during challenging conditions. It comes up with FPV goggles, live video feed, sonar and also includes a waterproof microphone.
As it has a six-thruster design, it can resist currents. It supports live streaming dip into the sea to enjoy the views in real-time by connecting it to your smartphone. Its 4K camera captures all of your magnificent moments in 1080p resolution. The controlling process is not that difficult, as you need to connect the transmitter with a simple app, and to instruct, you can control it by using your smartphone.
The device is durable, protects it from high pressure, current, and several unknown threats. It can go deep up to 150 meter, and the prolonged battery life up to 4 hours makes it different from other drones.


So when you need a drone with long battery life to complete your underwater photography, try to pick this one.
Pros:
Top-notch device
Takes better quality shoots
Durable
Long battery life
Cons:
Camera stability can little bit be better.
5. CHASING Dory Underwater Drone– With Palm-Sized Design, Real-Time Viewing, Superb Underwater Photography

Chasing dory is the smallest and smartest underwater drone that can enhance your aquatic adventures and add more experience. The palm-sized, five thruster design gives real-time viewing exploration and super underwater photography.
High-definition 1080p camera, wider FOV, color restoration, two-lumen lights all these features come together to capture the most exotic observations that most are unable to do. You can easily carry it in your traveling backpack. To navigate, you need to connect its Wi-Fi buoy to your device, and you need the dory app to control your drone's diving, depth, or camera settings.
Dory supports dual play mode, so at a time, two users can pilot it. One will instruct the movement of the device, and the other one will navigate the camera. It can dive up to 100 meter and around 2 hours of battery life.


If you want a user-friendly and budget-friendly drone to dive, find fishing, or take photographs, it is considered the best option for you.
Pros:
A great device to explore the deep sea
Affordable price
Provides dual play mode
Easy to carry
Cons:
Does not work good in the salty water
Choosing The Best Wireless Underwater Drone-What's To Consider?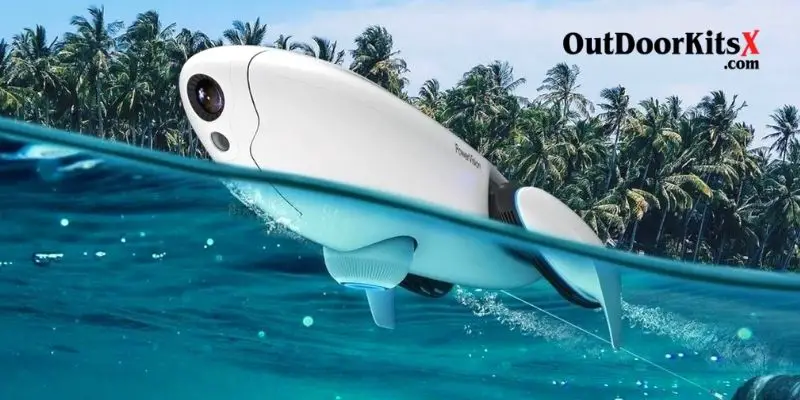 As these devices are expensive, in case you make your mind buy one, then here goes a few essential aspects that you should bear in mind before your purchasing process.
Make Your Budget
Making the budget is very important, as these tools are not cheap. Therefore, you need to know your purpose for buying this device, whether you need to pilot it for your recreational purposes or any professional outreach. But it is a wise decision to buy a little bit higher priced models because an average ranged model can wear out after a few uses. In this case, if you spend a few more money to buy an expensive model, then the chance of overpaying will reduce. Overall, it will cost more once, but ultimately it saves your money.
Battery Life
Batter life is worth considering factors as these underwater drones are wirelessly controlled. The amount of time to use it for your exploration depends mostly on its long battery life. All the drones do not have the same battery lifespan. It varies between 60 up to 480 minutes. Battery life assists you in calculating the time you need to work with your device. It indirectly helps you to make your underwater adventure plans correctly.
Depth
The considerable primary aspect to observe before going to purchase a drone is how much depth it covers. Not all the drones cover the same depth and route. Some devices have a maximum operating depth of 10m, whereas others can go 150m or more.
Video Quality
It is a better choice if you pick a drone that enables powerful and high-definition video. So choose the device that provides 4K video at 150 meter under the sea. It is useful for marine or professional research.
Needs And Demands
Having a wireless underwater drone is not a luxury, as many people use this device drone for their working aspects. Besides, it can use as a fishing tool or for deep diving, exploring the shipwrecks and aquatic world. To distinguish your needs and expectations before buying.
Supportive Customer Service
You may think why I include customer service in this considering essential factors list. So let me explain. As we really hope that you do not need to contact the manufacturer about a defective tool. But sometimes, if users face any difficulties, they need to contact the customer service team. Most of the time, users have complaints about the non-friendly behavior of the customer service team. So do research, go through the customer reviews deeply, and check which seller has supportive customer services.
Frequently Asked Questions (FAQs)
How much need do I spend on buying the best wireless underwater drone?
The best rated underwater drones are not cheap; these drones' price ranges approximately from $1,000 to $4,000. But you can also buy the more affordable rate drones, which costs less than $100, but they are not actual drones. They are known as toy drones. Submarine drones that have manufactured for military use cost over $30,000.
How does an underwater drone operate?
It has operated by commanding its buoy. Like all the underwater devices, it also has operating depths and can manage different conditions. Its motor helps to push water and allows the device to shift according to your command. You need your smartphone to operate it, as your phone will work here as a monitor.
Is it safe to use an underwater drone?
Underwater drone is safe. If you can't swim but want to dip into the sea, then it is a suitable choice for you. Piloting a drone also decreases sudden potential accident or danger. Some drones also have obstacle avoidance capability.
Final Words
After reading the whole article, now you gain a clear idea about the trending drones available on the market. Selecting the accurate underwater drone is very crucial for your exploration. Do not hesitate to spend money to choose the right device and trust in the changing advanced technology.
So all the drone enthusiasts are planning to have an underwater drone to capture their sea-world adventures. We think this post will help them diminish all of their confusion about choosing the best wireless underwater drone.